Through programs and services, the Lealman Exchange promotes an inclusive community in which all residents have a sense of ownership and empowerment.
Within the walls of the Lealman Exchange are a multitude of community partners dedicated to empowering our neighbors with the resources needed to thrive. The programs and services here at LEX allow our community members the freedom to dream, enhance their quality of life and connect their present to their future through transitional immediate needs assistance, as well as career planning, continuing education, and workforce development.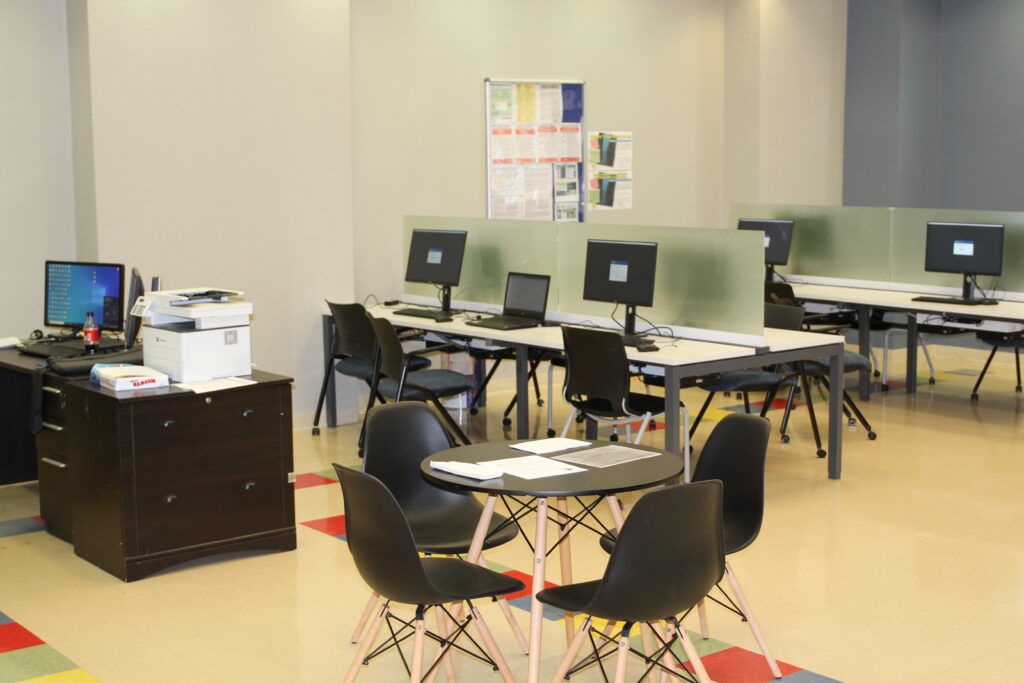 Design and implement the initiative with a priority placed on equity
Include community members in the collaborative
Use data to continuously learn, adapt, and improve
Build a culture that fosters relationships, trust, and respect across the community
The Lealman Exchange strives to meet the needs of all Lealman residents as a portal for connecting to a network of services at the Exchange and in the surrounding community. To do so, LEX has developed a Collective Impact approach, strategically developing a group of resources and services designed to support our neighbors as a whole through local partnerships and organizations. From workforce development, soft skill workshops, financial training, mental health support, veteran's services, and complete health and wellness, LEX partners meet our neighbors where they are to assess the support needed to grow and thrive. 
To learn more about the Collective Impact and how the Lealman Exchange strategic plan was developed, visit the St. Petersburg Foundation's website below.
Connect to community partners to find the resources and support you need to develop your path to success.
YMCA of Greater St. Petersburg
Lealman YMCA Preschool Academy – for children ages 2 months – 5 years
YMCA of Greater St. Petersburg Sports – Open gym, drop-in adult basketball and pickleball, youth basketball
YMCA Community Health Programming – SilverSneakers® classes, Parkinson's Disease Programs, Fall Prevention Programs
YMCA of St. Petersburg summer camp and school break camps
St. Petersburg Foundation As a social impact consultancy, the St. Petersburg Foundation builds capacity at the organizational and community level. We leverage public, private, and philanthropic partnerships and resources for social good, with a bias toward results-oriented deliverables. We support people and organizations in developing the systems, strategies and tools that advance missions and increase effectiveness.
Collective Impact Partners
Police Athletic League The Police Athletic League provides mentoring, meals, academics, and sports to at-risk youth. With the support of our donors and volunteers, we continue building connections and positively changing young people's lives. Join us in making a difference in the community by investing in these children lives and donating today. We thank you for all support you provide.
Social Venture Partners Tampa Bay
SVP Tampa Bay gathers successful professionals to leverage time, expertise and resources to make strategic investments in the local community. Partners invest in innovative nonprofits, and then actively nurture their financial investments with guidance and resources.
Pinellas County

Pinellas County is committed to superior public service, courteous public contact, judicious exercise of authority and responsible management of public resources to meet the needs and concerns of our citizens today and tomorrow.
Creative Pinellas
Our mission is to foster and sustain a vibrant, inclusive, and collaborative arts community across Pinellas County. We provide support, connection, and opportunities to artists, organizations, and the public in order to grow and sustain the area as an internationally recognized arts and cultural destination.
SPCA Tampa Bay
Society for the Prevention of Cruelty to Animals (SPCA) Tampa Bay is a non-profit, animal welfare agency that runs an open-admission For-All animal shelter and public pet hospital (veterinary center) in Pinellas County.
American Heart Association
For nearly 100 years, the American Heart Association has been fighting heart disease and stroke, striving to save and improve lives. The American Heart Association is committed to advancing health equity, including making grants and in-kind donations to help support nonprofit organizations in the Lealman community.
Pinellas County Housing Authority
Formed in 1965, the Pinellas County Housing Authority (PCHA) is an independent agency dedicated to creating, providing and increasing high quality housing opportunities in Pinellas County through effective and responsive management and responsible stewardship of public and private funds.