If you need assistance with damage from Hurricane Idalia, call the Crisis Cleanup Home Cleanup Hotline: 800-451-1954. Crisis Cleanup will connect you with volunteers from local relief organizations, community groups and faith communities who may be able to assist with:
· Cut fallen trees
· Drywall, flooring and appliance removal
· Tarping roofs
· Mold mitigation
Services are free, but service is not guaranteed due to the overwhelming need. This hotline will be open through Friday, Sept. 15, 2023.  For more info, visit www.crisiscleanup.org.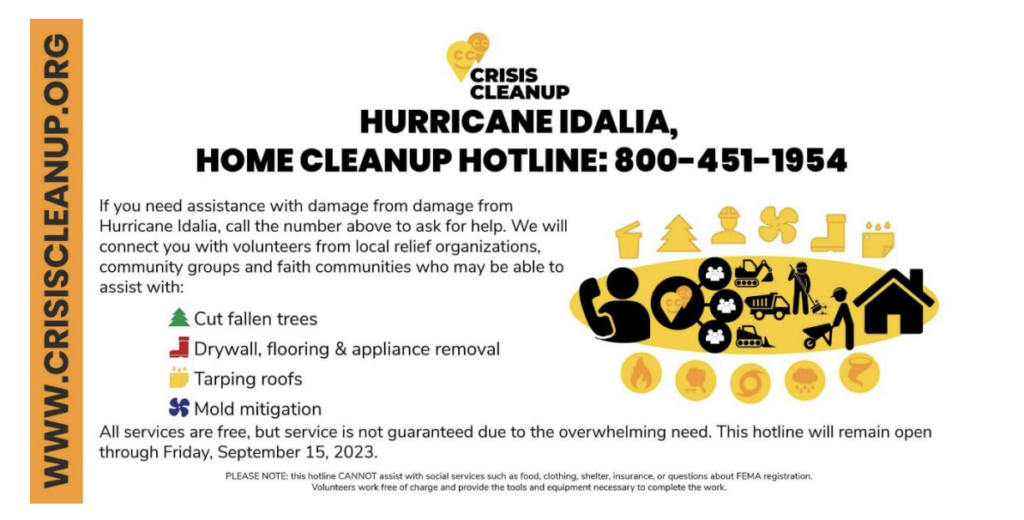 Ayuda para la limpieza después de la tormenta
Si usted necesita ayuda con los daños causados por el Huracán Idalia, llame a la línea directa de Crisis Cleanup Home Cleanup al: 800-451-1954. Crisis Cleanup le pondrá en contacto con voluntarios de organizaciones de ayuda locales, grupos comunitarios y comunidades religiosas que pueden ayudarle:
· Corte de árboles caídos
· Remoción de paneles de yeso (drywall), pisos y electrodomésticos
· Lonas para techos
· Mitigación de moho
Los servicios son gratuitos, pero no se garantiza que puedan ayudarlo debido a la abrumadora necesidad. Esta línea directa estará abierta hasta el viernes 15 de septiembre de 2023. Para más información vaya a www.crisiscleanup.org.