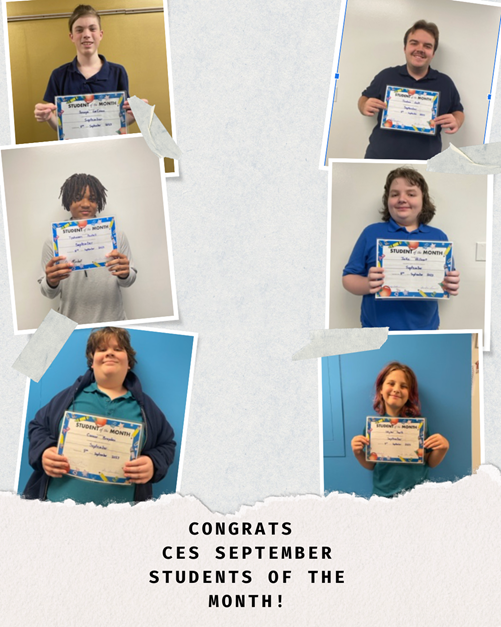 Congrats to CES Academy's September 2023 Students of the Month!
Ms. Ortiz-Thompson's Student of the Month is Joshua Goff. Josh is polite to everyone in the classroom. Joshua is always willing to participate in any classroom activity.
Ms. Cook-Martin's Student of the Month is Joseph LeCrone. Joseph is a wonderful student. He is always eager to learn and is a bit of a genius in Math. He is always kind and respectful of his peers and teachers. Joseph demonstrates true citizenship in our community because he has a genuine heart for others.
Ms. Mitchell's student of the month is Tyshawn Postell. He has shown great improvement since the beginning of the year. He has continued to work hard daily and completes his assignments on time. He is very respectful and kind to his teachers and peers. I can always depend on him to do the right thing, even when no one is watching.
Jake Willaert is Mr. Golden's choice for Student of the Month. Jake is an awesome student. He is courteous, kind, and just an all-around great guy.
Ms. Dawn's Student of the Month is Skyler Smith. Skyler is a happy student who is always ready to learn and wants to learn everything possible. Skyler is a great community member and gets along with everyone. Skyler asks great questions and always volunteers to answer and help whenever needed. We love having Skyler in our class!
Ms. Thomas' Student of the Month is Connor Brayden. Connor has made significant progress in reading and phonics already this school year. Connor always stays focused on his learning target to complete his work. He is kind to his classmates, and he is always willing to help them out when they need extra support.