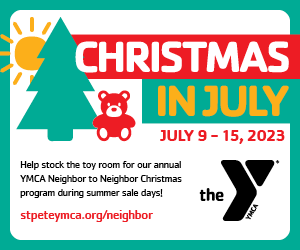 The holiday season is a time of joy, love and giving. It's a time when families come together to celebrate and share special moments. While many of us associate these cherished moments with the month of December, others prepare for this season all year long – and so does the YMCA of Greater St. Petersburg. 
This year, your local Y is hosting its first-ever Christmas in July event in support of its 33rd Annual YMCA Neighbor to Neighbor Christmas Program. This online shopping event will be held July 9 – 15 during the popular summer sale days: Amazon Prime Day (July 11-12) and Target Circle Week (July 9-15).
The YMCA Neighbor to Neighbor Christmas Program is a heartwarming initiative that spreads Christmas cheer to more than 400 families in the Greater St. Petersburg community. For more than three decades, this program has been a beacon of hope for families in need, ensuring that they experience the joys of a traditional Christmas celebration.
Last year alone, thanks to the generous donors who participated, 410 local families and 957 children woke up on Christmas morning to a beautifully decorated tree, toys and a delicious meal from Publix.
Want to get involved? No need to wait until December! You have the opportunity to make a difference in the lives of these families now by supporting this important initiative. The YMCA has created online wishlists for the items and age groups that are needed the most. By shopping from these wishlists, you can help stock the toy room and ensure that every child in our program receives a special gift this Christmas.
Shopping from the online wishlists is incredibly convenient. You can participate from anywhere, and the items you purchase from Amazon and Target will be shipped directly to the Y. It's a simple and effective way to make a positive impact on the lives of others, even during the summer months.
Embrace the spirit of Christmas – in July – and help bring joy and hope to families in need. Shop from the Y's online registries during summer sale days, and let's make this Christmas the best one yet!
Together, we can make a difference as we continue to work toward a better us.