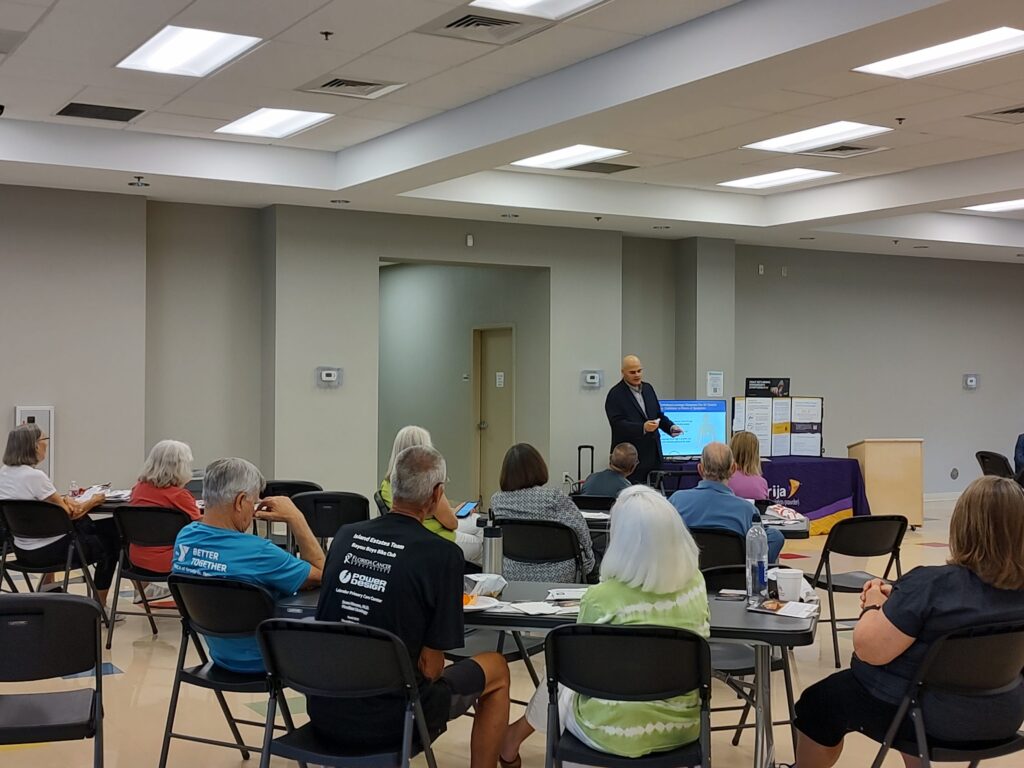 It was an afternoon of lifelong learning and community health as nearly 50 people packed the Neri Room at the Lealman Exchange for a YMCA Total Parkinson's Lunch and Learn on August 17th.
Dr. Rodriguez-Cruz, a Neurologist and Movement Disorder Specialist, led a presentation and Q&A session. Acorda Therapeutics sponsored the event, providing Chick-fil-A for the attendees to enjoy during the presentation.
"Dr. Rodriguez-Cruz gave a talk on the effects of different kinds of medication on Parkinson's Disease," said Kieran Gabel, Director of Community Health for YMCA of Greater St. Petersburg. "There's no cure for Parkinson's, but there are medications that can mitigate some of the symptoms; however, they're very sensitive. You need to take them at a certain time and they affect people differently. So he answered a lot of questions on when to take the medications, and what new ones are out there."
Gabel says Dr. Rodriguez-Cruz also encouraged attendees to share their symptoms with their physicians, noting, "If they're fatigued more than normal, he encouraged them to have their medications checked because maybe the dosage isn't quite right. The talk was very informative."
The Lunch and Learn was not only a chance to stay educated about Parkinson's and related diseases, but also an opportunity for those living with the disease and their care partners to socialize and meet others in the community.
"It's a great way to support each other and create fellowship," said Gabel.
The Lunch and Learn was part of the YMCA's Total Parkinson's program, an evidence-based exercise program designed by leading Parkinson's fitness specialists to retrain the mind and body. The program meets every Tuesday and Thursday at the Lealman Exchange to target daily functional challenges and symptom-specific fitness goals. During the Thursday fitness class, a support group for caregivers is also held at LEX.
"The Total Parkinson's program helps people delay the onset of Parkinson's related symptoms for people living with the disease, so it helps with balance and rigidity," said Gabel. "This program helps them to become larger, to talk louder, and do large exercises and big stretched movements."
You can learn more about the YMCA's Parkinson's Disease programs here. Gabel encourages the community to attend the YMCA's upcoming free fall-prevention workshop for seniors, Healthy Steps for Older Adults. In this community-based fall risk screening and education class for adults aged 65 and older, participants attend workshops addressing proper footwear, safety at home, good nutrition for bone health and the importance of exercise to prevent falls. Healthy Steps for Older Adults will be held at the Lealman Exchange on Tuesday, Sept. 26 and Thursday, Sept. 28 from 9 a.m. to 11:15 a.m. Learn more and enroll here.