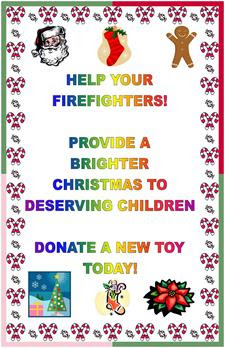 The Lealman Firefighters are continuing their tradition of donating food and gifts to families in need for the 2023 holiday season. Last year, with the help of organizations, they were able to provide over 150 families with holiday meals and give 3000 less fortunate children gifts for Christmas.
They are asking for your thoughtfulness and generosity to continue providing support for those in need, as they have for over 25 years. There are a couple of ways in which you can help:
Cash Donation: You can make a cash donation to help the firefighters purchase food and gifts.

Sponsor a Box: You can sponsor one or more of their food and/or toy collection boxes. By sponsoring a box, you commit to finding a way to fill that box as many times as possible. The most effective way to do this is to make filling the boxes a competition within your business or offer an incentive to your patrons for donating.
The firefighters aim to lessen the number of children who will go without on Thanksgiving and Christmas. With your support, they can help reduce the heartbreak and disappointment of no food for Thanksgiving and Santa not coming to their house. They do this for the kids and thank you in advance for any support you can lend to helping them. If you have any questions or would like to help in any way, please contact them at 727-526-5650 ext. 527.